Land Rover auto repair service in Fort Lauderdale
For Land Rover owners, navigating through auto repair and maintenance often proves daunting. However, with our Land Rover service in Hollywood, FL, your car repair and maintenance worries are over. Our team of expert mechanics provides top-notch automotive repair services that cater specifically to your coveted Land Rover.
Our Benz repair service is designed to maintain the integrity of your valuable German car. Knowing that your car is in expert hands grants you peace of mind. The German Car Depot, our service department, has state-of-the-art equipment to efficiently handle a broad array of Land Rover models, including the classy Tesla Model. This ensures that regardless of your car model, we have proper techniques to handle it; no wonder we are considered the European auto authority.
At our center collision, we do not just offer quality; we do it at an affordable price. You can save an incredible 20 to 30% off the ordinary repair costs when choosing our team.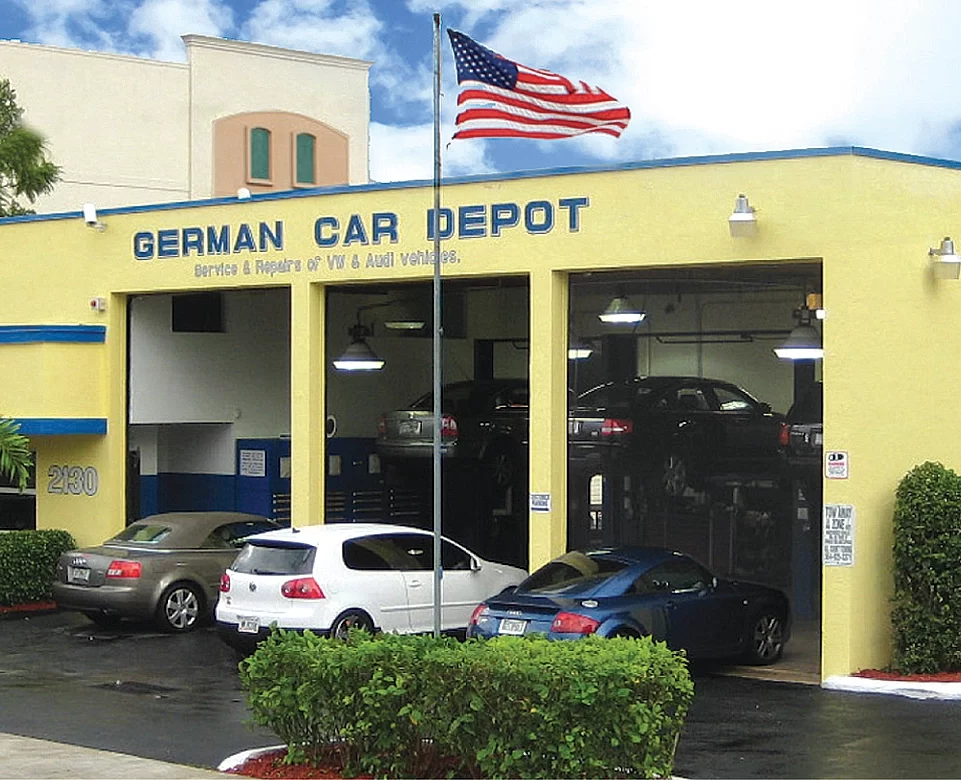 About The Owner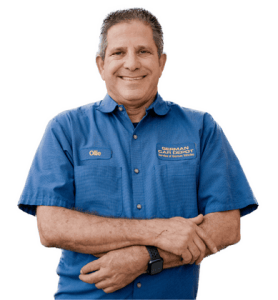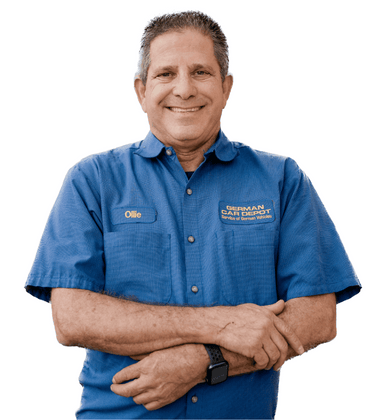 Hi, I'm Alan Ollie Gelfand, and I own German Car Depot a
Land Rover repair shop in Hollywood, FL
.
With over 3000 online reviews, our shop has become the go-to destination for anyone looking to keep their Land Rover running like new.
We take pride in our team's expertise in diagnosing and repairing all kinds of issues, from simple oil changes to complex transmission repairs.
And to give our customers peace of mind, we offer a 3-year, 36,000-mile nationwide warranty on most of our repairs.
At my shop, we treat every car as if it were our own, and we're always happy to go the extra mile to ensure customer satisfaction.
The Importance of Quality Land Rover Repair Services in Fort Lauderdale
If you're seeking exceptional Land Rover service in Fort Lauderdale, FL, it's important to understand the value of quality auto service. With the bustling city of Miami just down the road, and the upscale neighborhoods of Boca Raton to the north, optimal vehicle performance is a must. Los Angeles might be miles away, but European auto service, particularly BMW repair, is held to the same high standards in Florida.
Your Land Rover is a remarkable machine, but like all vehicles, it requires regular maintenance services to keep it running smoothly. It's not just about fixing things when they break. Quality Land Rover service also involves preventive measures, such as regular tune-ups and fluid checks, to avoid bigger problems down the line. Remember, what you do today in Fort Lauderdale, FL, could save you a ton of money tomorrow.
In the heart of Hollywood's auto center, our shop offers comprehensive repair service. From brake repairs to engine overhauls, no job is too big or too small. We stand by our work with an impressive warranty, assuring you of the quality we deliver. And while we specialize in European auto service, we handle all types of vehicles.
You can easily schedule an appointment online, or drop by our Santa Monica location for prompt service. Whether you're from Los Angeles or Fort Lauderdale, we're always ready to provide top-notch Land Rover service.
Find Land Rover Repair Shops Providing Genuine Parts and Accessories: Maintaining the Integrity of Your Vehicle
Should you ever need to find Land Rover repair shops within Hollywood, look no further than the expertise of the auto clinics around. Here, you can be sure that all parts and accessories used in maintenance or replacement services are genuine always. When you book an appointment at any reputable Land Rover repair shop, you'll be entrusting your vehicle's care to professionals who understand the centerpiece role of genuine parts ensuring the long-term soundness. As a Land Rover owner, you'd understand how exclusive the technology in your vehicle is, and that to maintain its performance and miles of usability, only genuine parts can live up to that standard.
At our auto clinic, we provide excellent repair services which embrace the use of Land Rover original parts for replacements when necessary, thus protecting the Rover North's integrity which is part of the Land Rover allure. Your Land Rover deserves only services that maintain its top-notch performance and unmatched durability. That's what you get when you schedule an appointment with us for repairs. We don't only take pride in the competence of our auto repair professionals but the unchanging assurance that only certified Land Rover parts will be used in the process.
Make an appointment at your preferred auto clinic and let our mechanics apply their expertise. We know how to maintain the integrity of vehicles like Land Rover, and that's why we're a trusted shop in Hollywood for your Land Rover, be it the Rover North or any other model. We're at your service, keeping the Land Rover spirit alive and kicking North-bound.
Advanced Diagnostic Tools: Ensuring Accurate and Efficient Land Rover Repairs
When it comes to auto repair and maintenance, especially for high-end vehicles such as Land Rovers, our auto repair center stands well ahead of other Hollywood mechanics. At our North Hollywood certified repair shop, we're committed to providing expert Land Rover repairs using advanced diagnostic tools to ensure an accurate and efficient service.
The importance of using advanced diagnostic tools in auto repair can't be overstated, particularly in Land Rover repairs. These machines help us pinpoint the exact area that requires attention- be it mechanical or electronic. We don't just repair Land Rovers, we offer a comprehensive vehicle inspection, maintaining the integrity of your vehicle and potentially saving you from expensive future repairs.
It's also essential to remember that not all auto repair centers can adequately repair Land Rover models. This is where our certified, pre-screened team of mechanics come in. With years of experience under our belts, we can confidently handle any issue your Land Rover may present.
We know our customers lead busy lives, which is why we provide a convenient online system, allowing you to schedule a service or repair at your leisure. Additionally, aside from offering quality Land Rover repairs, we ensure your vehicle runs smoothly by offering services like oil changes, brake checks, and tire rotations.
We're proud of our reputation as the go-to auto repair center in North Hollywood, serving our community with expert mechanics, advanced diagnostic tools, and certified services. Reach out to schedule your Land Rover repairs today and experience exceptional maintenance with us.
High-Quality Repair Service with Land Rover Maintenance and Auto Center in Hollywood
When you're seeking high-quality repair service for your prized Land Rover in Hollywood, don't look further than our comprehensive auto center. We're dedicated to providing exceptional Land Rover service – it's stamped in our legacy. At our facility, we're more than just an auto service center; we're a fully integrated solution for all your Land Rover's maintenance needs. Here, you'll not just get auto service but an unparalleled commitment to excellence.
Our skilled technicians are trained to master even the most advanced diagnostic tools, thereby ensuring accurate and efficient repairs. This, coupled with the use of genuine Land Rover parts and accessories, ensures the integrity of your vehicle is preserved with each visit to our maintenance services section. Be it oil changes, brake checks, or any other routine maintenance, we've got you covered so you can enjoy a hassle-free drive around Hollywood.
What sets us apart from other Land Rover service providers is our customer-centric approach. With our Hollywood center located strategically, we are easily accessible for repairs, maintenance or just a simple check-up. Across Hollywood, you will hardly find an auto center offering such comprehensive services with a personal touch.
No wonder we constantly receive stellar reviews. It's not just about providing services, it's about creating an experience. And we offer exactly that - an unparalleled service experience at our maintenance services center - designed exclusively for Land Rover owners like you. Remember, we're not just another auto center in Hollywood, we are your go-to Land Rover maintenance service provider.
Expert Technicians: Trained Professionals for Your BMW Repair and Maintenance Services
Land Rover service doesn't get much better than this. At our Hollywood Auto Center, we've put together a team of expert technicians and mechanics specifically trained for your Land Rover and BMW repair needs. Whether you're looking to repair a BMW, service a Land Rover, or maintain your trusted European auto, our certified mechanics have you covered. With years in the trade, our service is designed to help your vehicle stay on the road for longer.
When it comes to maintenance services, we don't just meet standards — we set them. Our maintenance services ensure that your vehicle gets the tender love and care it deserves, from professional mechanics who know what they're doing. And with a schedule that suits you, getting your vehicle serviced has never been easier.
We don't just service Land Rovers, either. Our certified team is also highly trained to repair BMW vehicles, regardless of the model. Our trade professionals are trained to work on all European auto makes and models, ensuring your vehicle is in capable hands.
Between our advanced diagnostic tools, optimal maintenance services, and certified technicians, you'd be hard-pressed to find a better place for Land Rover and BMW repair. So why not schedule an appointment with us? You can count on our Hollywood Auto Center to not only meet but exceed your vehicle repair and maintenance service needs.
Hollywood Auto Center: Trusted Land Rover and BMW Repair Service Shop
Welcome to the Hollywood Auto Center, an auto repair center where you'll find the most reliable Land Rover and BMW repair service in all of Hollywood. As the premier auto center in Hollywood, we specialize in the highest quality of auto repair and maintenance services. At our auto repair shop, we prioritize our customer's vehicles, ensuring they get back on the road safely and as quickly as possible.
At this renowned Hollywood auto center, we emphasize the significance of maintaining the integrity of your vehicle, implementing only genuine parts and accessories during repairs. We're not just limited to Land Rover, our team of expert technicians also deliver exceptional BMW repair service. Their extensive training in the intricacies of European auto machines helps us ensure your vehicle gets top-notch service.
Equipped with advanced diagnostic tools, we're capable of providing efficient and accurate Land Rover repairs. These tools ensure we detect issues quickly and fix them correctly, avoiding the possibility of recurring problems. Apart from repairs, we also offer maintenance services in Hollywood, handling a broad range of vehicles with the precision and attention they deserve.
In the hustle and bustle of Hollywood life, we understand how a sudden vehicle malfunction can disrupt your schedule. This is why we are diligent in providing swift services to fix your vehicle and get you back on track. Do not hesitate, schedule your visit to our shop today. Trust our revered auto center for all your vehicle repair needs, we promise our services are unparalleled anywhere in Hollywood.
Competitively Priced Land Rover and BMW Repair Services at Our Hollywood Auto Center
Looking for a top-notch Land Rover repair shop in Hollywood? Look no further! Our auto center offers competitively priced Land Rover and BMW repair services while maintaining top-tier quality. Here at the Hollywood center, we understand the importance of regular auto repair and maintenance to ensure the longevity of your vehicle. Whether it's a routine check or an emergency repair, our certified technicians can handle it - from a Land Rover to a BMW repair, we've got you covered.
About the North, we've gathered rave reviews, praising our ability to repair Land Rover and BMW vehicles. Our strong reputation is built on our commitment to provide reliable repair services that ensure your vehicle's performance and safety. But don't just take our word for it, come on down and let us show you why we're one of the top repair shops in Hollywood.
Not only do we repair Land Rovers and BMWs, but we also trade in vehicles. We understand the value of your vehicle and offer honest and transparent trade options. Whether you're looking to trade-in or purchase a vehicle, you'll find our services and prices unmatched. At our center, you'll find extensive repairs, superior customer service, and a well-stocked inventory of vehicles. So, for any auto repair needs, from a BMW repair to a Land Rover, our repair service is here for you. With smart diagnostics, genuine parts, and trained professionals, we're proud to serve the North and beyond. Isn't it time you brought your vehicle into our Hollywood auto center?
Providing Exceptional Auto Repairs and Maintenance Service in Our Center
When it comes to expert Land Rover repairs and maintenance, one auto repair center stands above the rest - Hollywood Auto Center. We're a leading destination for all auto service requirements, and we attract customers who appreciate the gratification derived from comprehensive maintenance services that guarantee optimal vehicle performance.
Our role transcends simple repair jobs; as a center committed to comprehensive auto services, we serve as your one-stop-shop for all your vehicular needs from routine maintenance, complex repairs, to part replacements. Land Rover repairs are our specialty, but our menu of auto repair services caters to a diverse array of vehicle types and models. Of the auto centers around, our reputation as the go-to repair shop shines through in the reviews of grateful owners who've trusted us to keep their Land Rovers in optimal condition.
The quality of our auto repair center reflects in every service we provide. Whether it's a basic oil change, brake work, engine repair or more complex troubleshooting, all services are handled with the highest level of professionalism. Combined with our high-quality replacement parts, our service ensures the longevity and performance of your vehicle.
Focused on comprehensive vehicle service and maintenance, our center is equipped with advanced diagnostic tools to ensure accurate and efficient repairs. Our qualified team excels in accurate fault diagnosis and swift maintenance, using their deep understanding of vehicle systems to keep your Land Rover running flawlessly.
The ultimate goal is offering you excellent service that reassures you of your vehicle's integrity and safety on the road. That's why, at Hollywood Auto Center, Land Rover repairs, maintenance and quality services define our very essence.
Reliable Repair Service for Your Land Rover: Auto Repair, Maintenance and Repairs in Our Hollywood Auto Center
If you're in Los Angeles and in need of a top-quality Land Rover repair shop, look no further than our Hollywood auto repair center. We're renowned for our reliable auto service and speedy repairs, maintaining your vehicle's optimum condition is our utmost priority. Entrust your prized Land Rover to our proficient mechanics who understand the distinctive requirements of your vehicle. We take auto repair seriously, regularly reviewing and updating our repair service to meet market standards.
As a highly acclaimed auto repair center, every Land Rover that enters our garage will go through a meticulous inspection before any repairs are carried out. Our technicians make use of advanced diagnostic tools to ensure accurate and efficient fixes. It's all part of the fundamental maintenance program that keeps your Land Rover running smoothly. Our center frequently deals with all types of repairs, from straightforward fixes to complicated restorations because for us, no task is too big or small.
We're more than just an auto repair shop; we offer an extensive range of services, from maintenance to lavish customizations to suit your unique style. Love your vehicle's authenticity? No worries, we provide genuine parts in our center to maintain the integrity of your Land Rover. With our dedicated Land Rover service, your vehicle is in the best hands in Hollywood.
And it doesn't stop there. Apart from Land Rovers, our skilled technicians also cater to BMW repairs, ensuring that every vehicle leaving our center is in its best possible condition. Swing by our Hollywood auto center now for top-tier Land Rover service and maintenance, highly regarded in Los Angeles and beyond. Your vehicle deserves nothing but the very best.
Why Land Rover Owners Choose Our Repair Service: Importance of Regular Maintenance
Choosing the right auto repair service is crucial, especially for Land Rover owners. That's why our Hollywood auto center has become the go-to Land Rover repair shop for many Los Angeles locals. We're committed to providing top-notch service for all types of vehicles, with a particular focus on European auto makes such as Land Rover.
Our reputation as a trusted Land Rover service provider didn't happen overnight. It's built on years of consistent, quality service delivery and overwhelmingly positive reviews from our valued customers. We understand the intricacies of these vehicles, and this knowledge, combined with advanced diagnostic tools, allows our repair service to be both efficient and accurate. In addition, we provide genuine parts and accessories to maintain your vehicle's integrity.
Often, repair shops neglect the importance of regular maintenance. Not us. Our maintenance services play a significant role in our overall service offering, keeping your Land Rover in top condition and helping prevent costly repairs down the line. The significance of regular maintenance cannot be understated. It not only prolongs your vehicle's lifespan but also ensures optimal performance at all times.
Our team of expert technicians are highly trained and experienced in providing both maintenance and repairs for your vehicle. What's more, we offer these services at competitive prices. But don't take our word for it, check out our reviews or better yet, make an appointment with us for your Land Rover service or repair needs today. We look forward to meeting you at our repair shop in Hollywood, Los Angeles.
Convenient Location of Our BMW and Land Rover Repair Shops in Fort Lauderdale
When you're in need of a trusted Land Rover repair shop, look no further than our convenient locations in Fort Lauderdale, Boca Raton, and Miami. We're proudly locally owned and serve folks from across the state. Our repair shops are easily accessible, no matter if you're coming from North Miami, Santa Monica, or elsewhere. We won't just repair your Land Rover, but we also repair BMW vehicles, providing the same high standard of service.
We stand out among other repair shops thanks to our expertise with European auto manufacturers. So whether you've got a Land Rover or BMW requiring attention, we've got you covered. We understand the intricacies involved in BMW repair and bring that know-how to every job we take.
Arranging an appointment with our specialists is simple. You can schedule an appointment either by calling us directly or through our online booking system. Regardless of how you choose to book, you'll find the process effortless, allowing you to get back to your regular routine swiftly. And to ensure you're kept in the loop, we send appointment confirmations and reminders via email or SMS.
Don't just take our word for it, though. Check out our reviews to see why customers consistently choose our Land Rover repair shop in Fort Lauderdale. We've got a reputation for delivering top-quality services for all vehicles we work on. So, let us put our skills to work for you. Schedule an appointment today.
Hassle-free Auto Service: Land Rover Maintenance and Repairs at Our Hollywood Auto Center
When it comes to ensuring the optimum performance of your Land Rover, it's crucial to choose the right auto service center. Our Hollywood auto repair center specializes in Land Rover repairs and maintenance services, providing a hassle-free experience that'll keep your vehicle at its prime. Based in the heart of Los Angeles, we're a locally owned business with a rich history of providing superior auto repair and maintenance services.
Whether you're seeking regular maintenance or in need of an urgent repair, you can depend on our expert technicians. Each member of our team has extensive experience in providing Land Rover service, utilizing state-of-the-art diagnostic tools for accurate and efficient repairs. We understand how important your vehicle is to you, so we ensure our repairs and maintenance uphold the integrity of your vehicle.
We're proud of our reputation as a trusted auto repair center, offering high-quality Land Rover and BMW repair services. We value transparency in our pricing, offering competitively priced services without compromising on quality. Vehicle owners in Hollywood and throughout Los Angeles know they can rely on us for all their auto service needs.
If you're in Los Angeles or Fort Lauderdale, finding a Land Rover repair shop that provides genuine parts and uses cutting-edge tools needn't be a challenge. With our convenient location, quality service, and commitment to customer satisfaction, there are plenty of reasons Land Rover owners choose us for their repairs and maintenance services. Book our services online today, and let us take care of your Land Rover repairs, ensuring your vehicle remains in top shape.
What We Do In Our Land Rover Repair Service
Why You Should Choose Our Land Rover Repair Service
Land Rover Repair Near Me,
Hollywood, FL
If you're located in Hollywood, FL, and searching for a "Land Rover repair shop near me," look no further than our expert team of Bosch and ASE-certified factory-trained technicians.

Our experienced team has the knowledge and skills to diagnose and repair any issues with your Land Rover, ensuring that it is running at peak performance.

With our commitment to quality and customer satisfaction, you can trust us to provide the best possible service for your vehicle.

Plus, we are the best in 15,000 shops located throughout the US, and we're always nearby when you need us.

Our relationship with our clients, Compelled them to visit our shop that's why most of the clients come from 33019, 33020, 33022, and 33083 these Hollywood's zip codes.
Get In Touch With Us
German Car Depot

2130 Fillmore St, Hollywood, FL 33020

+19549211515

service@germancardepot.com
Opening Hours:


Monday: 8 AM–5:30 PM

Tuesday: 8 AM–5:30 PM

Wednesday: 8 AM–5:30 PM

Thursday: 8 AM–5:30 PM

Friday: 8 AM–5:30 PM

Saturday: Closed

Sunday: Closed
Our Service Areas Are
By expanding our Land Rover repair services to
Cooper City
,
North Miami
,
Weston
,
Fort Lauderdale
,
Davie
,
Hallandale Beach,
Aventura
,
Golden Beach
,
Miami Beach
,
Pembroke Pines
,
 Sunny Isles Beach
,
Miramar
,
Dania Beach, Surfside,
Miami
, and
Plantation,
 we demonstrate our commitment to excellence.
Entrust your Porsche to us, and we guarantee you exceptional service that will never fail to satisfy.
Frequently Asked Questions
1. Is German Car Depot qualified to provide maintenance services for Land Rover cars with the appropriate certification?
With ASE certification and a track record of more than 30 years, The German Car Depot's technicians are well-equipped to offer superior repair services for Land Rover cars.
2. What amount of time, on average, does it take for Land Rover repairs to be completed at German Car Depot?
The time it takes to fix your Land Rover at German Car Depot depends on the scope of repairs needed, but our team strives to work efficiently to ensure that your car is repaired and ready for the road as soon as possible.
3. Are original Land Rover parts utilized for the repair work?
German Car Depot ensures top-notch performance and durability for your vehicle by utilizing authentic equipment and parts directly procured from the original manufacturer.
4. Can an appointment be scheduled for Land Rover repair services at German Car Depot using their website?
With German Car Depot's online scheduling system, you can easily set an appointment for Land Rover repairs at a time that's convenient for you.
5. Is there a loaner vehicle service available at your shop for customers whose Land Rover are under repair?
Yes, German Car Depot has the necessary tools and expertise to handle complicated repairs for Land Rover.
6. Is German Car Depot adequately prepared with the essential tools and knowledge to undertake complicated Land Rover repairs?
Yes, German Car Depot possesses the essential tools and proficiency to proficiently manage intricate repairs for Land Rover.
What Our Customers In Hollywood, FL Says About Our Services
Great experience I would use them again very happy with these guys. Well worth the drive from Deerfield Beach.
Big Leaf Tropicals
2023-02-28
Eddie was great to work with. My Touareg AC needed repair. They went about it in an affordable smart way as I had multiple parts fail. That was encouraging to see. Eddie and crew were very commuitive along each step. So I will definitely go back for repairs or maintenance for sure..The owner also reached out to see if I all went well. So really great overall experience. I would for sure recommen them.
Very professional and the work was done on time as well
The staff is friendly and knowledgeable, and are very good at communicating with customers and presenting options. This is one of my go-to places for car service.
All work done as promised at the agreed price.
My car died on me during Friday morning rush hour traffic I was stranded in a very dangerous location. I reached out to Eddie as AAA told me it would be an hour and a half before a tow truck could get to me. Eddie gave me the number to R and C towing. Richey was there in 15 minutes. Richey was very nice. Dropped me off at GCD. The guys diagnosed the situation quickly (dead alternator) and had me up and running not terribly long afterward. Eddie , Richie B, and the techs were awesome. Thanks guys!
bernie is the greatest, if you have a lawn mower for him to fix.