Audi Repair Service In Fort Lauderdale, FL
Searching for an Audi repair service in Fort Lauderdale, FL can be a daunting task. However, your search ends here!

German Car Depot is a reputable and trustworthy choice for all your Audi repair needs.

With over 30 years of experience in the automotive industry, we have established ourselves as a leading provider of exceptional repair services in Fort Lauderdale and its surrounding areas.

We pride ourselves on having a team of highly skilled and ASE-certified mechanics who possess extensive knowledge and expertise in repairing Audi vehicles. 

Plus, we offer fast and efficient services that are designed to get you back on the road as quickly as possible.
About The Owner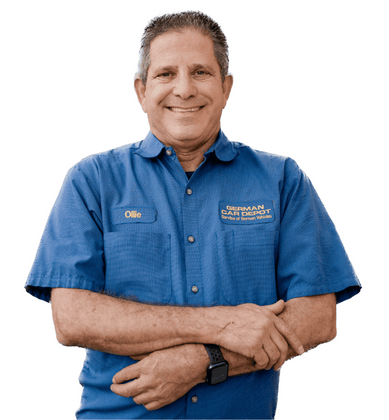 Hi there, it's a pleasure to introduce myself! My name is Alan Ollie Gelfand, and I am the proud owner of the German Car Depot.

For me, this business isn't just a way to make a living, it's a true passion of mine. I have always been fascinated by cars, particularly those of the German variety, and I love nothing more than helping people take care of their vehicles.

With over 30 years of experience in the automotive industry, I have seen a lot of changes over time.

However, one thing that has always remained the same is the satisfaction I derive from helping people keep their cars running smoothly.

Nothing beats the feeling of knowing that you have made a difference in someone's day by fixing their car and getting them back on the road.
What We Do In Our Audi Repair Service
Our service involves identifying and repairing issues in your braking system, which can include components like brake pads, rotors, calipers, and others.
We conduct a comprehensive inspection of the radiator, hoses, water pump, and other components to identify and resolve any potential issues.
The warning light will be inspected by our proficient technician to determine the cause, and then the faulty component will be repaired or replaced.
We use high-quality synthetic oils and inspect the oil filter, air filter, and other parts to ensure the optimal performance of your vehicle.
Our service involves identifying and resolving any issues related to the transmission, including a slipping clutch, a malfunctioning shift solenoid, or a damaged gear.
Audi Suspension Repair
Our skilled technicians will inspect the suspension system, pinpointing issues like faulty shock absorbers, springs, and other components.
Why You Should Choose Our Audi Repair Service
What Our Customers In Fort Lauderdale, FL Says About Our Services
Great experience I would use them again very happy with these guys. Well worth the drive from Deerfield Beach.
Big Leaf Tropicals
2023-02-28
Eddie was great to work with. My Touareg AC needed repair. They went about it in an affordable smart way as I had multiple parts fail. That was encouraging to see. Eddie and crew were very commuitive along each step. So I will definitely go back for repairs or maintenance for sure..The owner also reached out to see if I all went well. So really great overall experience. I would for sure recommen them.
Very professional and the work was done on time as well
The staff is friendly and knowledgeable, and are very good at communicating with customers and presenting options. This is one of my go-to places for car service.
All work done as promised at the agreed price.
My car died on me during Friday morning rush hour traffic I was stranded in a very dangerous location. I reached out to Eddie as AAA told me it would be an hour and a half before a tow truck could get to me. Eddie gave me the number to R and C towing. Richey was there in 15 minutes. Richey was very nice. Dropped me off at GCD. The guys diagnosed the situation quickly (dead alternator) and had me up and running not terribly long afterward. Eddie , Richie B, and the techs were awesome. Thanks guys!
bernie is the greatest, if you have a lawn mower for him to fix.
Audi Repair Near Me,

Fort Lauderdale, FL
If you reside in Fort Lauderdale, FL, and are currently searching for an "Audi repair near me", then look no further.

German Car Depot is conveniently located just a few miles away from your location.

Our professional team of experts specializes in German cars, and we provide top-notch repair services for all Audi models.

We guarantee that your vehicle will receive the utmost care and attention it deserves.

Our pick-up and drop-off service is available 24/7, making it easier for you to have your Audi repaired without any hassle.

It is worth noting that a majority of our clients in Fort Lauderdale are from zip codes 33301, 33302, 33303, and 33312.

Therefore, you can be sure that our services have been tried, tested, and trusted by the local community.
Get In Touch With Us
German Car Depot

2130 Fillmore St, Hollywood, FL 33020

+19549211515

service@germancardepot.com
Opening Hours:


Monday: 8 AM–5:30 PM

Tuesday: 8 AM–5:30 PM

Wednesday: 8 AM–5:30 PM

Thursday: 8 AM–5:30 PM

Friday: 8 AM–5:30 PM

Saturday: Closed

Sunday: Closed
Frequently Asked Questions
1. Does German Car Depot possess the necessary certification to perform maintenance on Audi?
Yes,
German Car Depot's technicians hold ASE certification and boast over 30 years of expertise in delivering top-notch repair services for Audi vehicles.
2. What is the estimated duration for completing Audi repairs at German Car Depot?
The duration of Audi repairs at the German Car Depot is directly proportional to the extent of the required repairs. Nevertheless, our team strives for efficiency to guarantee that your vehicle is repaired and ready to go as soon as possible.
3. Are genuine Audi parts used for repairs?
At German Car Depot, we place great importance on using authentic equipment and parts exclusively from the original supplier, as this ensures that your vehicle delivers exceptional performance and has an extended lifespan.
4. Can you give me an estimate before starting the repairs on my Audi?
Yes, we make sure to give you a detailed assessment of the repair work needed for your Audi before proceeding with any repairs, which allows you to have a transparent understanding of the associated expenses and make an informed decision.
5. Can I schedule an appointment for Audi repair services at German Car Depot via their website?
Absolutely! You have the option to conveniently schedule your appointment for your Audi repair service by simply giving us a call. Our knowledgeable and friendly staff will be delighted to assist you in finding a suitable time that works best with your busy schedule.
6. Does your establishment offer a loaner vehicle service for customers whose Audi is undergoing repairs?
We provide temporary vehicles for authorized repairs or services, and sometimes you may be eligible to receive a temporary vehicle without an authorized repair or service request. Our E/Z self-service system is now accessible.
7. Is German Car Depot equipped with the requisite tools and expertise to deal with complex Audi repairs?
Yes, German Car Depot is well-equipped with advanced diagnostic tools and equipment, enabling us to handle complex repairs for Audi vehicles with ease.