Audi Brake Pad Replacement In Pembroke Pines, Audi Repair Service
Audi Brake Pad Replacement & Audi Brake Service in Pembroke Pines, FL
When it comes to your beloved Audi, you'd never compromise. Good for you, neither would we! We're all about Audi brake repair and brake pad replacement in Pembroke Pines, FL. Your Audi isn't just any vehicle; it's a perfect blend of luxury, performance and technology. And to keep it running smoothly, proper maintenance and service is essential—especially when it comes to those critical brake parts.
We offer top-notch service to replace brake pads tailored specifically for your Audi. That's right, we're big into using only Audi brake pads to ensure that your ride stays safe and secure. Plus, we're always up to speed with everything related to Audi brakes, from brake kits to ceramic brake parts—no second guessing or one-size-fits-all fixes going on here.
Unlike other standard brake pads, Audi brake pads deliver exceptional stopping power and longevity. The secret? Audi brake pads are designed to absorb heat and reduce brake fade, giving you a superior braking experience. No more worrying if your vehicle will stop in time on rainy days or during traffic's chaotic moments. All thanks to these diligently engineered brake parts, which adhere to Audi's strict safety standards.
And you may be wondering, is a ceramic brake better? Well, it just might be. The ceramic brake offers low noise, less brake dust and fantastic braking power. It's just another way we're committed to providing superior vehicle service in Pembroke Pines, FL.
We know what you're thinking: "But is it easy to replace my Audi brake pads?" Well, we're not just known for our top-notch repair; we're celebrated for our customer-centric approach, too. Our seasoned service team will take care of everything from start to finish, helping you navigate through the process while ensuring you're comfortable and informed every step of the way.
We've got all the repair and parts know-how to service your Audi right, plus all the right tools to make it happen. But don't just take our word for it—come visit us and experience the firsthand difference of our brake pad replacement service. So what are you waiting for? Bring your Audi into our service center today for some fine-tuning. Our team will check everything meticulously from brake kits to the minor brake parts. Trust us, your Audi deserves nothing but the best. And when it comes to brakes, we're definitely your best bet in Pembroke Pines, FL!
Brakes Maintenance: Tips to Replace Audi Brake Pads Efficiently
So, you're driving your sleek Audi around Pembroke Pines, FL, when you notice something's off - the brakes aren't as responsive as they should be. You press down harder, and there's that squeaky, grindy sound that you really don't want to hear. Yup, definitely time for a brake pad replacement, folks. Replacing Audi brake pads might seem daunting, but relax, it's not rocket science. If you're comfortable around a toolbox and got a flair for DIY, you can easily replace brake pads with the right guidance. Firstly, you need a brake inspection to determine if the brake pads are the issue or if it's something else. Remember, happy brakes, happy life. The inspection will also tell you if the rotors are good to go. Now, changing the brake pads is a bit tricky, but here's a few tips to make things easier for you. Once you've jacked up your Audi (safety first, alright), remove the wheel to see the brake pad and the rotor. If your brake pad looks thinner than a dime, it's time to say goodbye. If not, put it back and check back after a few weeks. The rotor should be shiny and smooth — if it looks like the surface of the moon, it might be time to replace that one too. The key is to replace the brake pads before they're completely worn out. You do not want metal on metal action happening when you slam your brakes in an emergency. The sound alone makes my teeth grind, not to mention the damage! While you have everything apart, take a good look around. If you see any leaking brake fluid, better get that fixed ASAP. And before you tighten everything up again, apply some brake grease to the back of the new brake pads. This'll solve any squeaky brakes issue and save you from a possible headache later. Join the gang on Reddit and swap experiences with other Audi enthusiasts. They can share some cool tips and tricks about brake pad replacement or any other issues you might come across. Now, finding the right brake pads for your vehicle is super important. But, let's be honest, ain't no one got time for hunting around auto stores. The good news is, a lot of them offer online ordering, and that's where delivery comes in handy. Just pick, click, and wait for your brand spanking new brake pads to arrive at your doorstep. Don't forget to like, schedule, and maintain your brakes folks. Consider this a friendly reminder from your neighborhood brake enthusiast. Safety first, fun next. Enjoy your drive around Pembroke Pines, FL. By following these tips, you'll efficiently replace brake pads and have your Audi back on the road in no time. It's about taking it slow and doing it right, mates. Good luck!
Audi Brake Pads Swap: Expert Service Offering New Brake Pad Installation
Hey, folks, if you're searching for top-notch service for your Audi in Pembroke Pines, FL, you've hit the right spot! Got a soft spot for your Audi's brake system and don't want any ol' Joe to fiddle with it, right? Well, we totally get it. We're talking about Audi brake pads replacement, a job that takes more than just a couple of wrenches. One cannot overstate the importance of the brake system; it's pretty crucial, don't you think?
So, let's cut to the chase and talk about what we do. First off, when it comes to brake kits, we only work with the most reliable ones. We handpick the brake kits and, of course, the pads, ensuring that your ride gets only the best. Whether it's time to replace brakes, or just an inspection, we carry out each task with complete precision.
Now, you'd reckon merely replacing the brake pads is a breeze, eh? But let's not kid ourselves, it ain't that easy. The entire brake system of an Audi is a team; if one member ain't playing fair, the game's off. So, when we replace brakes, we make sure the entire brake system is one hundred percent.
What's even better is that we don't only replace brake pads. How about servicing your Audi while we're at it? We carry out an all-round service, taking care of everything; your brake, engine, and even the teeny-tiny nuts and bolts - nothing gets past our meticulous service.
Now you might be thinking, "What's so special about this service they're raving on about?" Well, let's explain. We take immense pride in our community of enthusiastic and professional mechanics. Each and every job taken upon, be it replacing pads or servicing brakes, is done with utmost care. Your brake job isn't considered done unless it's been double-checked by our experts. How's that for security and peace of mind?
We ought to mention that we're not about just swapping brake pads or just replacing the brake system. We won't turn a blind eye if you're in need of other expert services. For all your Audi needs, be it the brake system, engine, or bodywork, we've got you covered. You'll leave with a smile, vouching for our efficient work when it comes to your Audi's pads being replaced.
So folks, that's the long and short of it. What say you? Ready to give us a whirl? Don't let those brake pads wear out, not on your watch, not on ours. Bring in your Audi for a brake job and let us show you what we're about. Amazing service, best-in-class brake kits and the peace of mind you deserve. Now isn't that a deal?
Replacing Worn Brakes: A Peek at Our Service Exploring Common Audi Brake Pad Replacement
Driving your Audi is not just about style and luxury here in Pembroke Pines, FL. It's also about ensuring you're safe on the road, and a major part of that safety relies on your brake pads. Ever encountered the distressing sound of brake squeaks or experienced unnerving brake latency? These could be signs that your Audi brake pads need a repair or a replacement. That's where our professional brake replacement service steps in.
Picture this: you're whizzing down the road, and a sudden obstacle appears. Naturally, your first instinct is to hit the brakes. But what if the brakes don't respond promptly? Scary, right? That's exactly why regular brake service and timely brake repair are so vital. To put it simply, effective brakes can mean the difference between a narrow miss and an unfortunate fender-bender.
At our Audi brake repair service center in Pembroke Pines, we employ top-notch techniques and high-quality parts to ensure your vehicle's brakes operate smoothly. Here's a behind-the-scenes peek into our brake service process: first, we check the thickness of the brake pads. If they're thin, we recommend a brake pad replacement to ensure optimum braking performance. There's also the brake caliper to consider. This crucial component needs to be in perfect shape so it can effectively squeeze the brake pads against the wheel's rotor, stopping or slowing your vehicle.
After inspecting and replacing the brake pads and repairing the brake caliper if needed, we give the brakes a test run. This is to ensure that your Audi's brakes are working perfectly and are ready for the road. Post-repair, you'll realize that your drive is much smoother and safer, free from brake-related noises or latency. And that, my friends, is what we aim to achieve with our brake service and replacement services.
Yes, we do love our jobs. We live to see how a simple yet critical brake repair makes your Audi perform better, making you safer on the roads of Pembroke Pines, FL. We love it when customers drive away with a confident smile after their brake pads get replaced, ready to take on Florida's highways with renewed vigor. After all, as Audi enthusiasts ourselves, we understand how much your vehicle means to you.
Essentially, we treat each Audi like our own, devoting intense care and precise expertise during every brake replacement, repair, or service. In addition to Audi, we also work on a multitude of other vehicles. Regardless of the make or model, we pledge to deliver the same level of proficiency and excellence door-to-door in Pembroke Pines, FL. So, go ahead and give your Audi, and yourself, the top-tier brake service it deserves lads. After all, you only live once, but you brake thousands of times!
Experiencing Brake Issues: View our Tips to Understand When to Replaced
Ever experienced the anxiety when your car's brakes make that horrific screeching sound when you apply pressure? That's your car's cry for a brake inspection. It's just one indication in a series of signals your vehicle offers when the brakes start to wear out. Mate, the beauty and power of your Audi should never be undermined by failing brakes. You deserve after all, a vehicle that functions at its best, don't you?
Unfortunately, brake issues don't come with an alert, but don't worry! This article provides handy tips to understand when to replace your Audi's brake pads. An odd sound, longer stopping distances, or a brake warning light are clear signs. Be on the lookout for these indicators, and don't put off your Audi's brake service for too long in Pembroke Pines, FL.
Generally, the brakes system of your Audi is designed to resist wear and tear, but undoubtedly, as with any car component, brake pads may need replacement. If you've been noticing some strange feelings or noises when you step on the brakes, there's a chance that the brake pads are on their last threads. When your brake pads start to wear thin, the entire brakes system works harder to stop the car, which can eventually result in more expensive repairs.
There's no need for you to be a specialist to know when your brakes need attention, but it might be a good idea to view some tips on brake investigations. Knowing the signs can prevent potential accidents and save quite a bit of moolah. Consistently listen for unusual noises, be aware of warning lights, and understand how your brakes perform under normal circumstances.
The main trick is to not delay when the time comes to replace your Audi's brake pads. Consistent maintenance and early replacement can increase the lifespan of not just the pads, but the entire brake system, keeping your car safe and your drive smooth, while decreasing the likelihood of costly repairs down the line.
The most economic and guaranteed way to keep your Audi's brakes in top notch condition is to rely on our expert service. We offer unsurpassed audi brake pad replacement services in Pembroke Pines, FL. Our crew of trained and competent mechanics work diligently to guarantee the high performance, safety, and longevity of your Audi.
Just a reminder, if you ever need serious work on your Audi's brakes or if your pads need a swap, don't hesitate to get them inspected professionally. Brake maintenance is not something you'd want to goof around with. After all, your safety and the performance of your Audi is our top priority. The beautiful beast that your Audi is, deserves a top-notch brake system for a flawless drive!
Choosing Us for Your Next Audi Brake Pad Replacement: Insights from Reddit
If you're an Audi owner in Pembroke Pines, FL looking to replace your brake pads, we'd like to let you in on a little secret: our service for Audi brake pad replacement is the talk of the town on Reddit! Reddit, a popular online forum, is full of members who have turned to us for their replacement service needs, because replacing Audi's brake pads doesn't have to be a daunting task. We've got the expertise, the parts, and the dedication to get the job done right.
We've noticed Reddit users recommending us for Audi brake pad replacement service due to our commitment to quality parts and stellar repair service. You can trust us with your vehicle, whether you need a full-scale brake pad repair or a simple replace. Members have acknowledged our free brake pad diagnostic service which identifies when it's time to opt for replacement. After getting your Audi brake pads checked, the next crucial part is replacement, which we excel in!
Many Reddit users have already taken advantage of our free brake pad replacement service, where we replace your worn-out brake pads, ensuring a smooth and safe ride. Our techs understand that the choice of brake pads for your Audi does matter, so we always use top-quality parts for an optimal driving experience. Also, our location in Pembroke Pines, FL, has been praised on the forum for ease of access and service efficiency.
Experience a hassle-free brake pad replacement at our service center. We're a one-stop solution for all your Audi's brake needs. From brake pad replacement to brake fluid and oil service, we've got you covered. And hey, don't just take our word for it - check out the plethora of positive reviews from date-verified members on Reddit praising our work!
We offer service solutions for all types of Audi brakes. So, whether you have disc brakes or drum brakes, we can replace them with ease. With a little help from our techs and the correct parts, you'll be back on the road in no time. No need to stress about whether your brake pads are wearing down too quickly, or if your brakes are making those horrific noises - we'll sort it all out for you.
Not only do we provide top-tier Audi brake pad replacement service, but we also give members of our loyal community a variety of fantastic offers. Stay up to date with our promos by subscribing to our free message alerts. No reason to pay full price when you can grab a great discount on brake pad replacement service, right?
To wrap it up, our Audi brake pad replacement service in Pembroke Pines, FL, stands out because we genuinely care about our customers' safety. We appreciate the Reddit community's support, and we promise to continue providing the best possible service with every brake pad replacement job we undertake.


Audi Repair Miami: Topnotch Audi Service and Repairs at German Car Depot
If you're searching for an impeccable Audi service center, look no further than the German Car Depot, your reliable Audi service provider in Miami, FL. Our specialists have a firm grasp on the mechanics of Audi repairs and maintenance, providing top-notch repair services. With years of experience, we've set the bar high for Euromotive performance. We house the best quality Audi parts and have well-honed expertise in fixing Audi engines. We're more than just a repair shop; we're an Audi repair specialist. It's in our brand to diagnose engine problems with precision drawing from the German luxury standard. Our Prestige Auto Tech aptly handles both auto repair and maintenance challenges. Whether you need assistance with repair in Miami or elsewhere, our dedicated team ensures that your Audi is always road-ready. Think of us when you need any Audi repair in Miami – we're not just any service, but your ultimate repair companion.
Audi Service: Auto Repair and Luxury Vehicle Maintenance in Miami, FL
When you're in Miami, FL and your Audi needs a tune-up or repair services, look no further than the Audi service center at German Car Depot, your reliable stop for all Audi repair Miami and maintenance services. We specialize in luxury vehicle maintenance, blending top-notch service and expert knowledge to keep your Audi running at optimal performance. With a focus on customer satisfaction, our highly-trained technicians offer comprehensive auto repair services, including but not limited to, Audi engine repair services. They use cutting-edge technology and draw on years of experience servicing Audis. Your vehicle's health is our priority. So, whether you need regular service maintenance, a major repair or just a check-up, we've got you covered. Experience the best in Audi service, auto repair, and luxury vehicle maintenance services at German Car Depot in Miami, Florida. We're committed to giving your Audi the care it deserves in our Miami service center, to ensure it continues giving you the smooth, luxurious drive you love.
Audi Service and Repair Shops: Euromotive Performance in FL
If you're searching for an exceptional Audi service center, look no further than Euromotive Performance. Located right in the heart of Miami, Florida, this repair shop is the prime destination for Audi repair services. As the leading Audi repair specialist in Miami, customer satisfaction is our priority. With precise auto repair services, we have a team of professionals trained that ensure your Audi is in the best possible hands. Whether routine service, preventive maintenance or complex repairs, we have the expertise to keep your Audi running smoothly.
EuroMotive specializes in Audi repair in Miami, ensuring seamless performance and safety on the road. The FL based service center offers a wide range of services, towing your trust with nothing short of excellent. Be it your first visit or you're a returning customer, our commitment to provide exceptional repair services in Miami, FL is unwavering. Turn to Euromotive for your Audi service and repair needs today!
Comprehensive Audi Repairs at German Car Depot, Miami, FL
If you're looking for the perfect blend of german luxury and top-notch auto repair in Miami, look no further than German Car Depot. As a leading authority in Audi repair, we pride ourselves on providing comprehensive repair and maintenance services that set us apart. Whether your Audi needs routine maintenance or a complex engine repair, our skilled technicians are equipped with the latest tools and genuine Audi parts to handle the job. We are well-versed with the intricacies of your Audi, understanding that it deserves nothing less than services of uncompromised quality. From minor tweaks to major overhauls, we cover all, aiming to exceed your expectations with our Audi repair services. Trust us with your car - we've mastered the art of maintaining that 'just off the showroom' feel with our auto services in Miami, FL. Your Audi deserves the best. Get in touch with us at German Car Depot- we make 'Audi repair in Miami' synonymous with excellence!
Engine Diagnostics and Repair for Audi Vehicles
When it comes to flawless engine diagnostics and repair for Audi vehicles, the team at German Car Depot is second to none. Our seasoned Audi repair specialists are adroitly versed in executing precise diagnostic engine checks and repair services specifically designed for Audi engines. If you are in Miami and need auto repair work, be it a simple oil change or a complex transmission fix, remember us. We know just how foster an Audi engine repair work, because we understand each pulsating heartbeat of an Audi. With us, you don't merely get an auto repair, you receive a comprehensive service that ensures your Audi stays in prime condition. The trust and comfort we impart through our repair services make us stand out as the go-to place for any repair Audi owners need. Our commitment ensures the optimal performance of your Audi, making us the best in Florida.
Expert Audi Service for a Smooth Performance in Miami
When you're in need of an Audi service center in Miami specializing in auto repair, German Car Depot is your go-to destination. Known for our exceptional Audi service, we pride ourselves in making your car's performance at its best. Having a well-maintained vehicle is crucial and there's no better place to ensure your vehicle's performance is flawless than in our renowned center. With our expert repair in Miami, we provide comprehensive auto repair solutions designed for your Audi. Our repair services don't just cover the basics but delve deep into sophisticated automotive issues. From routine maintenance services to complex engine jobs, our team has you covered. At German Car Depot, your Audi is all that matters. Our service extends beyond mere maintenance. Trust us to take your auto to its optimum performance level with our stellar repair services in Miami. We're your guide to perfect car maintenance!
Precision Audi Brake and Suspension Repairs in Miami
Welcome to the impeccable feature of precision Audi Brake and Suspension Repairs in Miami. If you're based in Miami and in need of high-quality auto repair services, specifically for your Audi, look no further. German Car Depot provides best-in-class brake and suspension repair services to ensure your Audi runs smoothly on Miami's roads. Servicing brakes with meticulosity and suspensions for a comfortable journey, the repair services are brought to you by top-level auto technicians. As part of our comprehensive services range, we're committed to offering the highest caliber of auto repair services for your Audi in Miami. We use advanced diagnostic tools to pinpoint areas in need of our expert repair services. We value your Audi as much as you do, so we take every brake and suspension repair seriously. Choose us, your trusted Miami destination, to keep your Audi in optimal condition.
Efficient Auto Repair Solutions for Your Audi in Miami
When it comes to Audi service, you can't beat the high-quality auto repair services offered in Miami. It's all about finding efficient repair solutions that keep your Audi running smoothly. Whether you need an engine diagnostic, a brake overhaul, or anything in between, we have got you covered. As an esteemed Audi service center located in the heart of Miami, we specialize in a wide array of repair services tailored to meet your specific needs.
We stock a broad range of genuine Audi parts to ensure your vehicle gets the very best in terms of replacements and upgrades. Our well-established service center is adept at resolving any issues your Audi might encounter, making us the preferred destination for all your Audi auto repair needs in Miami. Trust us, when it comes to servicing your Audi, there's no better repair solution in town.
Electrical System Troubleshooting for Audi Cars
When it comes to Audi cars, the complexity of their electrical system often requires professional troubleshooting. Fortunately, Audi owners in South Florida can rely on top-tier auto repair services offered by German Car Depot for all their repair needs, including electrical system troubleshooting. Located conveniently in Miami, FL, this exceptional repair shop specializes in repair services for Audi and other German cars. With their comprehensive understanding of these vehicles' electrical systems, they're the go-to resource for auto repair in Miami.
Audi drivers in Miami can count on German Car Depot for reliable troubleshooting and on-going maintenance. Their high-quality auto repair services ensure that your Audi continues to perform optimally, matching the prestige and smoothness associated with these cars. So, if you're in Miami and need troubleshooting or any other kind of Audi repair, don't hesitate to reach out to German Car Depot. Their top-notch repair and exceptional service have solidified their reputation as the leading choice for Audi repair in Miami.
Trusted Audi Maintenance Services in Miami, FL
Welcome to Miami, the home of best-in-class Audi service and repair services specially suited to cater to your Audi! Our adept maintenance services team at the German Car Depot service center, FL, operates tirelessly to provide high-quality auto repair solutions to ensure your Audi performs at its best. Whether you're seeking expert Audi service for a smooth performance or need assistance with engine diagnostics and repair, we are well equipped to help. Our comprehensive services extend from precision Audi brake and suspension repairs to even electrical system troubleshooting for Audi cars. At our Audi service and repair center, we understand that our customers in Miami expect only the best, hence we strive to deliver uncompromising quality in all aspects of our services. Trust us with your Audi maintenance and repair in Miami to experience unparalleled service.
Routine Maintenance to Prolong Audi Vehicle Lifespan
When it comes to using routine maintenance to prolong vehicle lifespan, there's no better place in Miami, FL area than the German Car Depot. We offer top-tier Audi maintenance services, ensuring your prized Audi vehicle gets the care it deserves. With a team of experts on board, we guarantee swift and efficient auto repair and maintenance work, keeping your vehicle in peak performance. Repair services are a vital part of our offering, with a focus on thorough repair work that upholds the superiority and sophistication of Audi vehicles.
Our Audi repair in Miami assures that every vehicle gets the attention it needs, from simple routine check-ups to more complex repair jobs. By delivering unparalleled repair and maintenance services in Miami, the German Car Depot aims to uphold the enduring class and functionality of your Audi vehicle, thereby prolonging its lifespan. When it comes to your vehicle, it's all about detail-oriented service and world-class mechanics that make us stand out.
Audi Brake Pad Replacement In Pembroke Pines, FL
Are you seeking a dependable and trustworthy Audi brake pad replacement service in Pembroke Pines, Fl? German Car Depot is the destination for you.

Our 30 years of experience serving the Audi community have earned us a stellar reputation as the top choice for Audi owners in Pembroke Pines.

Our certified technicians use only premium-quality OEM brake pads to ensure optimal performance of your Audi's braking system.

Additionally, we provide a 3-year/36,000-mile nationwide* warranty on most repairs, giving you complete peace of mind that your Audi is in capable hands.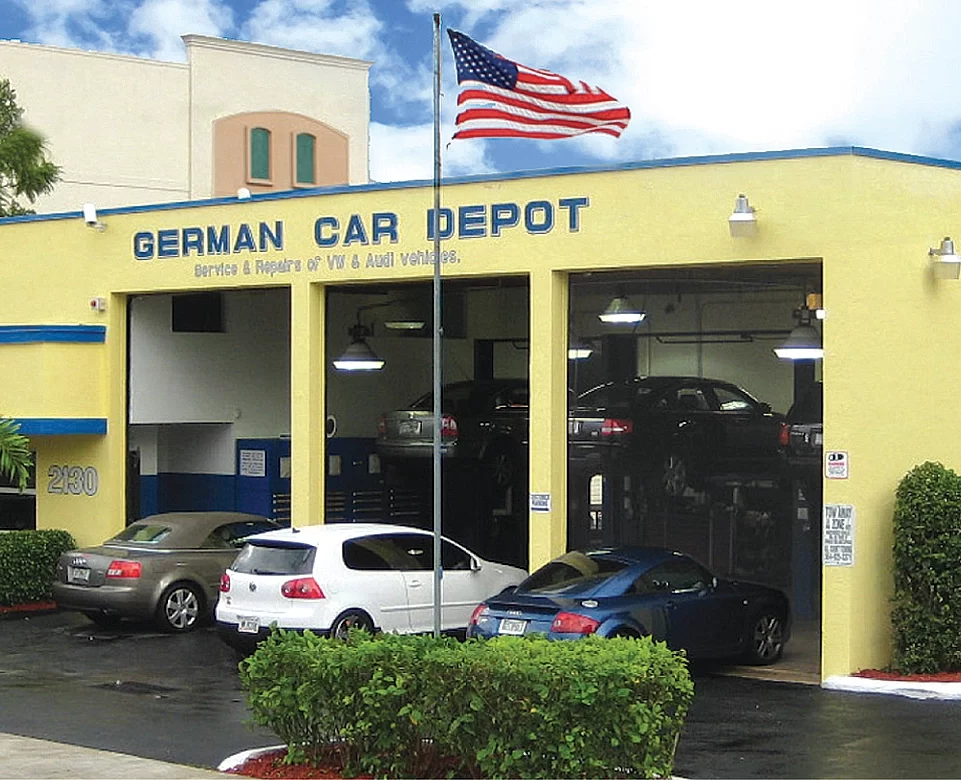 About The Owner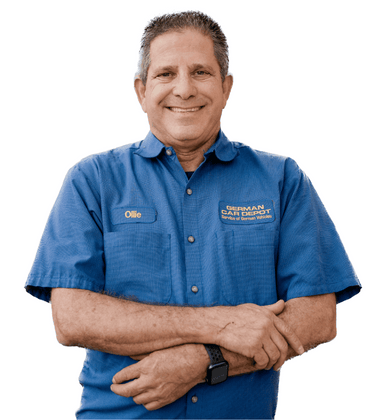 Hello there! I am Alan Ollie Gelfand, owner of German Car Depot, an
Audi Repair Service Center in Pembroke Pines, Fl
.
With good at over 15,000 shops throughout the United States, our shop has a trusted name when it comes to Audi repair services.
We offer an exceptional service called Pick Up and Drop Off Your Car 24/7 with our convenient drop slot and lock boxes.
This means you can have your car serviced even if you cannot visit our service center during business hours.
Whether you need routine maintenance, major repairs, or a check-up, we are committed to providing you with the best service possible.
What We Do In Our Audi Repair Service
Why You Should Choose Our Audi Repair Service
What Our Customers In Pembroke Pines, FL Says About Our Services
Kenisha Brown- Alexander
2023-10-26
Excellent! After being told by the dealership I needed almost $6k in service I found German depot and they provided the utmost integrity about what I needed…. Which was only $260 in service. No doubt this is my new service home!
Marie-Claire Chabat
2023-10-26
I've used German card Depot again again, and every time I'm super happy. They're very responsive and very knowledgeable. I would totally recommend them.
Jimmy is my rap. Always very professional and always willing to help in anyway I can to get the car fixed. He is truly a gentleman and a scholar and very trustworthy.
Juan Vallecilla
2023-10-25
Great experience. The service was done fast, and professionally. From now on GCD will be my service/repair shop. Thank you and special recognition to Jimmy who was in touch with me during the service process.
Robert Heist (Bobby)
2023-10-23
Honest, friendly, and professional. Extremely knowledgeable staff and managers, the level of effort that went into my last visit qualifies as above and beyond. Cannot recommend this business enough.
Steven Tornberg
2023-10-13
Excellent, fast, friendly service done with the proper tools and equipment by experienced technicians; and done at a price much more affordable than dealership prices. Couldn't ask for more!
Vesper Martini
2023-10-05
Great customer service, which most businesses are currently lacking. Joe answered all my questions regarding the issues I was having with my 2016 Jetta. A very friendly staff, and a clean customer waiting area with more amenities than most car dealerships.
Very Professional Very Fair Pricing And Trustworthy !
I took my car I got to say I love the experience feels like family there my car was fixed to perfection and really loved the 8 Point inspection with pictures to actually see what is wrong with your car it's already hard to find German car mechanic so this will my go too shop
Audi Brake Pad Replacement Near Me
If you're a citizen of Pembroke Pines, Fl, and searching for "Audi Brake Pad Replacement Near Me," look only as far as German Car Depot.

Our team of certified technicians has the expertise to handle any brake pad replacement for your Audi, ensuring you're back on the road safely in no time.

We pride ourselves on providing top-notch service at a fraction of the dealership's cost.

The best news for you is that you can save 20-30% more than the dealer on our Audi brake pad replacement.

It gives us immense pride to have the highest number of customers belonging to the zip codes 33026, 33024, and 33028 of Pembroke Pines.
Get In Touch With Us
German Car Depot

2130 Fillmore St, Hollywood, FL 33020

+19549211515
Opening Hours:


Monday: 8 AM–5:30 PM

Tuesday: 8 AM–5:30 PM

Wednesday: 8 AM–5:30 PM

Thursday: 8 AM–5:30 PM

Friday: 8 AM–5:30 PM

Saturday: Closed

Sunday: Closed